INBOUND is how HubSpot identifies its twist on digital marketing. It's a method of attracting, engaging, and delighting people in a way that provides value, builds trust, and grows businesses.  INBOUND takes advantage of traditional digital marketing skills, but enables and organizes them in a unique software platform HubSpot calls "The Growth Stack".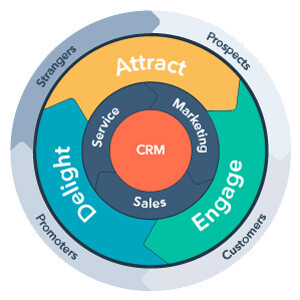 At the core of the Growth Stack is HubSpot's free CRM.  You can connect HubSpot's Marketing Hub, Sales Hub, and Service Hub to the CRM.  Each of these modules can be installed on its own, or in tandem with one or both of the other two.  Before jumping into a description of each one, let's first answer a question you're probably asking.  What exactly is INBOUND marketing?
What Is INBOUND Marketing?
Now that you have an idea about what INBOUND is, let's get an overview of each of the HubSpot modules.
Marketing Hub
Marketing Hub is HubSpot's flagship product.  Use the Marketing Hub to organize and execute digital marketing concepts like email marketing, content marketing, campaigns, workflow automation, lead capture, and conversion rate optimization.  These are just some of the things you can do with Marketing Hub.  If your goal is to attract more website visitors and convert your target audience into leads, then Marketing Hub is what you need.
Sales Hub
Free up more time and stay on top of all your prospects and customers with Sales Hub.  With Sales Hub you can automate outreach in a personal way.  Use email templates in sequences to nurture and cultivate business.  Time your follow up perfectly by using email tracking to know when someone opened your email, clicked on a link, or downloaded an attachment.  Schedule meetings effortlessly.  Even make calls directly from your browser and have them automatically logged into the CRM.  No data entry required!
Service Hub
Service Hub is HubSpot's customer service software.  It's a full featured help desk ticketing system designed to give your customers an extraordinary and efficient experience.  When you make sure your customers are happy, they'll be active promoters and advocates of your business which will help you grow even more!  In addition to the ticketing system, Service Hub features live chat and chatbots, a knowledge base, shared team email, and feedback surveys so you can hear first hand how well you're doing.
How Does Eniture Technology Fit In?
Most businesses don't have the in-house expertise of a digital marketing agency like Eniture Technology.  While HubSpot is a great platform for organizing and growing your business, simply subscribing to it isn't going to ordain you with those skills.  There's also some technical work involved in getting the HubSpot Growth Stack up-and-running that many people aren't comfortable doing themselves.
We'll evaluate your needs and help you pick the right HubSpot modules and subscription plans.  We'll create a digital marketing plan aligned with your growth goals, and execute it.  When we perform your HubSpot onboarding, we'll train your people.  Over the course of our engagement, we'll develop the assets your people need and automate their work to help make them as effective and efficient as possible.
If there are things you'd prefer to do, or learn to do yourself, no problem.  We're available to provide as much assistance as you want.
Request A Free Consultation