Use web services to enrich your website
What are web services in plain English?
Web services enable communications between devices connected to the World Wide Web. You can use web services to retrieve information that is useful to your site visitors. The map on our
Contact Us
page is an example. Google provides the map in response to a request it received from that page. Google maintains the map by keeping the roads and points of interest up to date. It also gives you the ability to click on a link and get directions.
You can create your own web services to make information available to others. For example, if you have a database of famous quotes, you can create a web service to return the quote of the day. Anyone connected to the web could retrieve the quote of the day by sending your web service a request.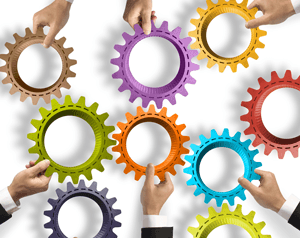 How can Eniture Technology help me with web services?
We're experts at working with web services. We can use web services to get data into or out of your website. Do you have information in your online store that you wish was visible somewhere else? The opposite may be true. You may have information somewhere else that you wish was visible in your online store. We can make that happen.
Most eCommerce platforms have Application Programming Interfaces (APIs). We can use web services to interact with the APIs to achieve all kinds of things. There are limits though. Not all APIs have the same capabilities. What's possible with one eCommerce platform may not be possible with another.
Not an eCommerce merchant? Don't worry, we can still help you. The ability to use web services isn't exclusive to eCommerce sites.
Contact us for a free consultation. We'd love to hear your ideas!
These are non-technical examples of web services in layman's terms. Their purpose is to help people understand the concept of web services in plain English. If you are looking for a technical explanation of web services, try this article from guru99.com.
Social media web services example
Are you using a email marketing platform such as Constant Contact or MailChip? Both of these platforms have "integrations" with Twitter. When you send an email using these platforms you can post a message in your Twitter account. Your email marketing platform uses a web service to send the message to Twitter. When Twitter receives it, it puts out the tweet.
Twitter isn't the only social media platform that does this. Facebook, Google+, and many others allow web services to connect to their APIs.
Do you have a web based shipping application connected to your online store? If you do, then you use a web service to make your life easier. The shipping application uses web services to retrieve order information. This eliminates the need for you to type in the order's address and other information. The shipping application uses web services again when it generates a shipping label. It provides the shipment tracking number back to the online store.
Shipping systems also use web services to:
gather shipping rates from the carrier;

schedule a pickup with the carrier;

get a shipping label from the carrier.
Shipping systems are an excellent example of the use of web services. Shipping systems use web services for two way communication between various systems.
Shipping system web services example
Mobile app web services example
Apps for mobile devices use web services. A good example is the Great Clips app. Great Clips is the world's largest salon brand. It doesn't take appointments. Customers receive service on a first come, first served basis. You can checkin online using the Great Clips app.
When you launch the Great Clips app a map displays showing the Great Clips stores near you. Each map pin shows the estimated wait time at that store. You checkin to a store by tapping on the map pin and confirming your visit. When you arrive at the store, your first name already appears on the list of waiting customers. If you timed it right, you'll be the next in line.
Your smart phone and the computer at the Great Clips store used web services to make this happen. Any mobile app that retrieves information for you does so through the use of web services.
Can you use web services to integrate systems?
In a word, yes. You can use web services to integrate two or more systems connected to the internet. But not all systems connected to the internet are accessible through web services.
Contact us if you have two systems you'd like to integrate. We'll let you know if it is possible.
Request a free report card